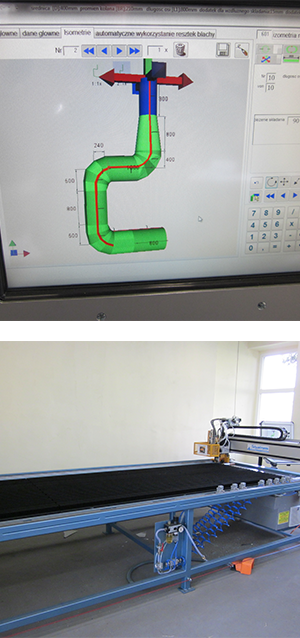 Why industrial insulations are our strength?
We have long-term experience earned by implementing different types of orders in many countries of the European Union.
We have qualified staff with necessary knowledge and licenses to provide services on the international market.
We have our own, well equipped workshop, thanks to which we can realize any order.
We consider each cooperation as special, which ensures one hundred percent satisfaction on both sides.
The features that describe us best are professionalism and timeliness.
For the above reasons, once started cooperation related to industrial thermal insulation continues for many years. In March 2014, the IzoTech company purchased lines for prefabricating diverse tin jackets. Thus, our modern machinery makes it possible, among others, to:
increase our competitiveness,
improve our production,
increase the capacity,
reduce the costs.
The conclusion is: modern technology in combination with experienced personnel guarantees high quality of produced protective jackets of steel sheet on insulation. As a result, we are one of the leading companies among businesses offering industrial insulations not only in Silesia.
First of all, we make thermal insulations for industrial pipelines, and thermal insulations for industrial tanks, but our offer also includes such elements as:
power boilers,
electro-filters,
heat distribution and process systems,
ducts,
?turbine,
engines,
exhaust systems,
compensators,
process equipment.
Another issue are acoustic insulations which, in turn, relate to:
fans,
generators,
engines,
turbines,
assemblies.
We offer full guarantee that our casings and panels will effectively absorb noise generated by industrial devices. The last kind of service we provide in this segment of our business are cold-protection insulations for industrial pipes, and for process tanks and devices. In addition, we would like to propose electrical heating of such parts as pipelines, tanks, hoppers, chutes, or electro-filters, which consists in:
protecting any kind of industrial systems against freezing,
maintaining set temperature,
anti-icing systems: downpipes, gutters, ramps, roofs etc.